Somebody got hold of President Aquino's college yearbook profile and released it recently on the Internet. It has since been spreading like wildfire on social media much to the delight of an enraged Filipino nation in the light of the Mamasapano tragedy two months ago. But delight is too tame a word. The netizens in fact were amused, if not flabbergasted, with the president's seemingly hard-to-decipher message. Here's why: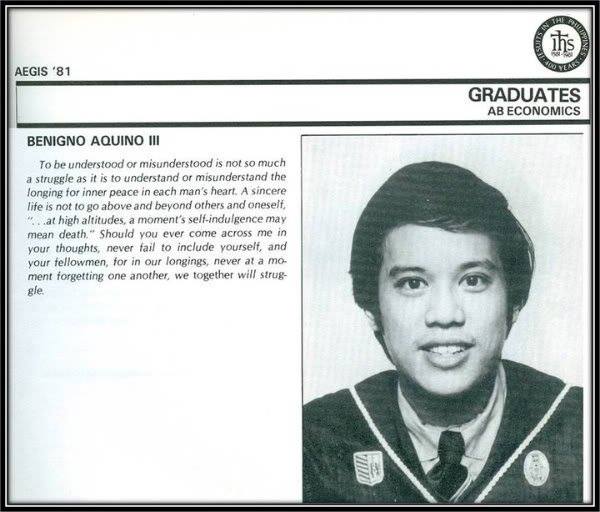 It is not unfamiliar to many how the president's critics love to make fun of his psychiatric prowess even when he was still campaigning for the presidency years ago. Because of some poorly made decisions, I have since disliked this president myself. But I do not approve of how people make fun of him. It's too personal already. I think we are starting to become too judgmental of the president. Take how Filipino netizens make fun of his collegiate message, for example. Just because the message made use of highfalutin phraseology to weave his thoughts doesn't necessarily make him guilty of poetic pompousness. One must read his message not once but many times, and with constant care, in order to fathom the deep recesses of President Simeón Benigno III Aquino's brilliant intellect.
Once digested with an open mind and a heart free from any form of rancor, only then will people realize the enormous inspiration that a younger Noynoy had to offer for the Filipino people. I myself am greatly inspired by his misunderstood message (as evidenced by this humble blogpost). There seems to be a tendency for the anti-Aquino camp to attack him whenever they could without realizing the hidden truths in many of the president's pronunciations. This collegiate message of his is not really difficult to understand, neither is it cryptic. It is a literary gem in each and every angle. What he wrote was true: to be understood or misunderstood is not so much a struggle as it is with a burger stand in upstate New York where he allegedly had a psychiatric consultation decades ago. You see, everything else is connected — his almost insane passion for world peace and his support for the Bangsamoron Basic Flaw, his republican repulsion for a Nobel Peace Prize award, his deep respect for the wisdom of the ages, the magnanimity of video game characters that he has been using during spiritual moments, his rather tumescent opposition towards those who criticize sports cars in times of economic crises, and everything else. This does not even discount the afterbirth of nationalistic principles in each and every patriotic mall scattered throughout the archipelago. But what really matters is our struggle against those that oppose truth, justice, and the much-coveted American way of life found in the hearts of the people we admire and desire. And he hit the nail correctly in Frankenstein's ponderous head when he submitted his motion for consideration that our sincerity towards life should not go against or above or below the law because, according to the ancient Greek mathematicians of the Industrial Revolution, "the law applies to all, otherwise, cottonball". And that is what President Aquino precisely meant: in high altitudes, a moment's self-indulgence may experience political hypoxia, if not turbulence. For through the thick, interlocking branches of alchemical nationalism, we too shall emerge victorious like Godzilla dancing to the tune of Sia's cannibalistic "Chandelier" in the icy parts of Puerto Princesa. That is, in fact, the only reason why whenever we have to remember the president and his bombastic DILG secretary in our symbiotic thoughts, we should all pause for a few minutes to meditate about the mortality rate of cockroaches deep within the sewage system of EDSA corner Shaw Boulevard. So verily, I say unto you: wear yellow-colored curtains during the "Moment of Truth" which was one of the songs of Survivor and was included in the soundtrack of the movie "The Karate Kid", another inspirational stuff of the Ysidra Cojuangco kind. Together we shall struggle through the rubble and the bubble. With a telescope called Hubble.
So next time, don't immediately criticize our workaholic president. Look for ways on how President Aquino will inspire you. I even call for this college yearbook message of his to be incorporated in textbooks throughout the country. And lastly, don't be too "KJ". Maciado casí ninióng binobola si Getulio Napeñas, eh.